4th of July!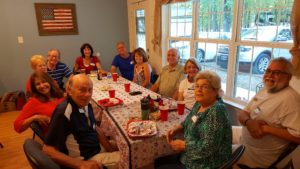 Did we get together?    YES
Did we have good food? YES! You know, the salad, the brisket, the potato salad, the desserts, and I mean we had desserts! The deviled eggs, the chocolate cake,
Did I mention the deviled eggs?…..You get the idea.
Here at Providence RV Park at Lake Fork Texas, we decided to have a 4th of July dinner. We invited all our community, and ALL who were at the park came.
Have I told you, we have the best bunch of folks you could have in an RV community!
We had our dinner, and then we talked, then we ate again, then we played games, then we laughed, and laughed, and had a great time. We really do have the greatest people here, and they all could relate a story about life.
Of course, we always honor our nation and all the people that keep it safe and functioning. We also honor our GOD who has intervened on so many occasions on the nation's behalf to continue what He started.
If you make it here by the next 4th, then YOU can be a part of our Celebration at Providence RV Park.
Come and see!
James