Mad Dog Moore Memorial Bass Tournament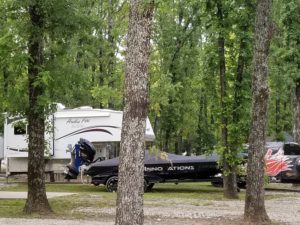 is coming to town, just down the street from Providence RV Park. The tournament honors the memory of Garland police officer Michael David Moore who lost his life in the line of duty Feb. 15, 1977. Michael "was killed in the line of duty when apprehending a bank robbery suspect at the Bank One on W. Centerville Rd." He loved to fish so what better way to honor him than an annual tournament? The proceeds will go to support the Shriners Hospitals for Children.
Another bonus to this event are the incredible raffle items. Buy a ticket, or buy a couple dozen. Wouldn't you like a Massimo T-Boss 410 Camo from Massimo Motors, a Kearney Custom Flatbed Trailer, or a Sun Dolphin with BPS Prowler Trolling motor from Bass Pro Shops. For a complete list of items see the tournament website.
The bass fishing tournament is Saturday, September 7, at Oak Ridge Marina. Bag time 2 PM.
Providence RV Park has a 2-day minimum stay so reserve for the weekend. We have room for your boat and the dock is ½ mile down the street.
Honor the fallen blue, support the children, enjoy the weekend fishing, stay in peace and quiet; it's a winning combination.
Call us at 903.226.3016.