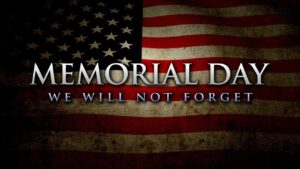 Remembering Our Heroes
Lake Fork Providence RV Park Takes this time to honor our fallen service men and women. We invite you to visit the Poppy Wall of Honor (see our FaceBook page) where you can honor them, too! Have a safe and reflective Memorial Day.
USAA created its first-ever Snapchat augmented reality lens just in time for Memorial Day. The company, which serves military members and their families, will honor the lives of fallen military members via AR.
From Washington, D.C. to Your Smart Phone
This brings its annual Poppy Wall of Honor experience from its physical location on the National Mall in Washington, D.C., to Snapchatters' phones. There is also a dedicated website.
Poppy Wall of Honor pays tribute to the men and women who made the ultimate sacrifice while defending the U.S.. Once Snapchatters dedicate poppies, they will be added to the digital memorial.
The Poppy Wall of Honor campaign was inspired by World War I poem "In Flanders Fields." USAA noted that the poppy has been an international symbol of remembrance since 1920.
A Snapchat First
The Poppy Wall of Honor has come to the National Mall for the past two years. It enables visitors to learn more about the more than 645,000 military service members who lost their lives in conflicts.
How it works: Snapchat users go to selfie mode. They will see the poppies from the wall bloom and transform into a single poppy on their lapel. This is their symbol of remembrance for fallen service members.
From David Cohen, Social Pro Daily:
"…This Memorial Day, even as we remain physically separated, we ask our country to come together as they do every year and honor the memory of those who gave the ultimate sacrifice to defend the freedoms we hold dear." – USAA CEO Wayne Peacock