OUR BIG NIGHT OUT!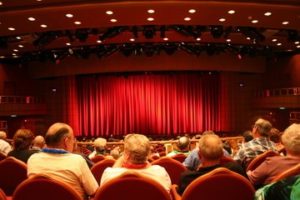 Man! What a time we had last night! Well, it was a time anyway, joined by some who do full time RV living.
We met our RV friends at The Red Dome Restaurant in Quitman, Texas. We had dinner, great conversation, and then, and then we decided to throw caution to the wind and go and see a movie.
Oceans 8, at the Historic Select Theater. One screen, one snack bar, and one auditorium, and retro prices. Can you say, "Old Fashioned"? Yes, it's the oldest continuously operating movie theater in Texas.
The History Select Theater and now also Lake Country Playhouse in Mineola, Texas, is a historic movie theater and you could NOT beat the atmosphere. It doesn't even matter what's showing; it's not about the movie anyway. I can't remember having that much enjoyment going to the movies in a long, long time. It just seemed like there was not as much pressure as going to the movies "in town." It seemed like it was OK for us to enjoy our time without having to report to our friends that we saw "The Latest", or "The sexiest", or the "Wildest", or "Bloodiest", or the whatever the movies are supposed to be.
We live a part of our life at Providence R V Park out by Lake Fork. Arguably, the best bass fishing lake in the state of Texas, or maybe the USA, or, depending on who you talk to, THE WHOLE WIDE WORLD!
This R V Park is a little different. It feels sort of like a pressure relief valve, and I don't know any one who doesn't need RELIEF from the daily pressure of life we all seem to live with. I have a permanent place here, my own personal relief valve, and I just don't think I can give it up. My wife wants me to live a lot longer and I've gotten to the point where I don't think that will happen without my relief valve.
And part of that relief is the people in our community. People who live here are probably the best neighbors we could have. They come from all walks of life, professions, backgrounds, but sooo friendly. Real salt of the earth types. And I would bet if you ask them, they could sense the relief as well.
I love it here.
Come and see! Come and stay: part time, full time, or join us just for the weekend.
James