Current Headlines Describe the COVID RV Boom
The New Normal for Traveling Americans?
COVID Campers Could Lead RV Industry Resurgence (Bloomberg)
As COVID-19 Spreads, Vacations Soar (Atlanta 11 Alive)
RV Dealers See Increase in Sales as COVID-19 Pandemic Changes Summer Vacations (Indianapolis FOX 59)
More Turning to RVs, Motor Homes to Escape COVID-19 and Get Away from it All (USA Today)

From National Camping Month to National Camping Year…and Beyond
June was National Camping Month. We looked at a few fun facts, including the RV's debut in 1910. Millennials emerged in the top tier of RV buyers' changing demographics.
We see those rising statistics being reinforced in July. There seems to be a new normal being birthed in America, and it includes the versatile RV in a big way.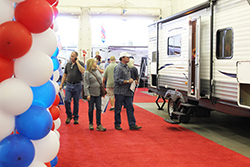 Auto sales—and most other retailers—are at alarming lows. Yet RV sales are being reported nationwide as roughly triple that of last year. RVs are moving into an unprecedented place of prominence for many Americans. This will impact how people do vacations, business trips, and full time living in the future.
The Summer of the RV
A recent study noted that over 75% of American travelers are changing their plans for the summer. RVs are suddenly the perfect "social distancing" choice due to onboard amenities and RV Parks' naturally well-spaced layouts. Of course, some parks are better than others at giving you elbow room. Providence is better than most in both tree shade and spacious lots.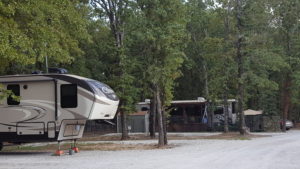 An RV boom means less flying and hotel usage, and instead, more family and pet bonding time.  Fox 59 in Indianapolis reported that "AAA predicts more Americans will hit the roads instead of the skies," this summer.
David Basler, VP of the National Association of RV Parks and Campgrounds, agrees: "This is going to be the summer of the RV." Record numbers are being churned out by RV dealerships, campsites/parks and RV rental companies.
But is it a temporary phenomenon? Or a national trend?
Ken Eckstein of Mount Comfort RV in Indiana, along with many others, believes it's here to stay. He told Fox 59, "We're seeing a short term surge right now, but I think this will be a long term trend for the industry."
Test Driving Your New Life
Atlanta's local TV station 11 Alive recently did a report on the rental side of the RV industry:
"With RV rentals almost fully booked through August and inventories limited on what's left to buy, a survey by a leading worldwide RV rental company Outdoorsy.com said since March, first-time RV rentals in Metro Atlanta and across Georgia are up almost 90 percent.
"Renters are 'mostly families taking trips together, not willing to fly.' Buford resident Scott Mawdesley, his wife Natalie and their two children, say it was something they always wanted to do. COVID-19 pushed them over the edge.
In Denver, there are many who have always wanted to combine the comforts of home with the beauty of nature. Escape Campervans reports a 150% increase over last year's rentals, and includes many Millennials as clients.
Easing into the realities of the RV lifestyle with a rental "test drive" can be the perfect solution for those looking to make the transition.
Say Hello to the New Normal
With COVID-19 leading the way, people are examining their options, and deciding this is the time to explore current and future vacay and residence possibilities.
Those who own or rent an RV can stock it with their own bedding and personal items to feel assured that it's a safer option than flying or staying in hotels.
Here at Lake Fork Providence RV Park, we welcome all who may be considering a leap into this exciting new life of adventure.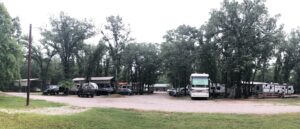 We are nestled in the gorgeous pines, oaks, and cedars near Lake Fork in East Texas, famous statewide for its number of trophy sized bass.
There are a few spots still open for your test drive. So buy or rent your new adventure, and call us when you're ready.
It's always the perfect time to move up to a better, healthier, happier lifestyle!